← Back to portfolio
4th Industrial Revolution Powerpoint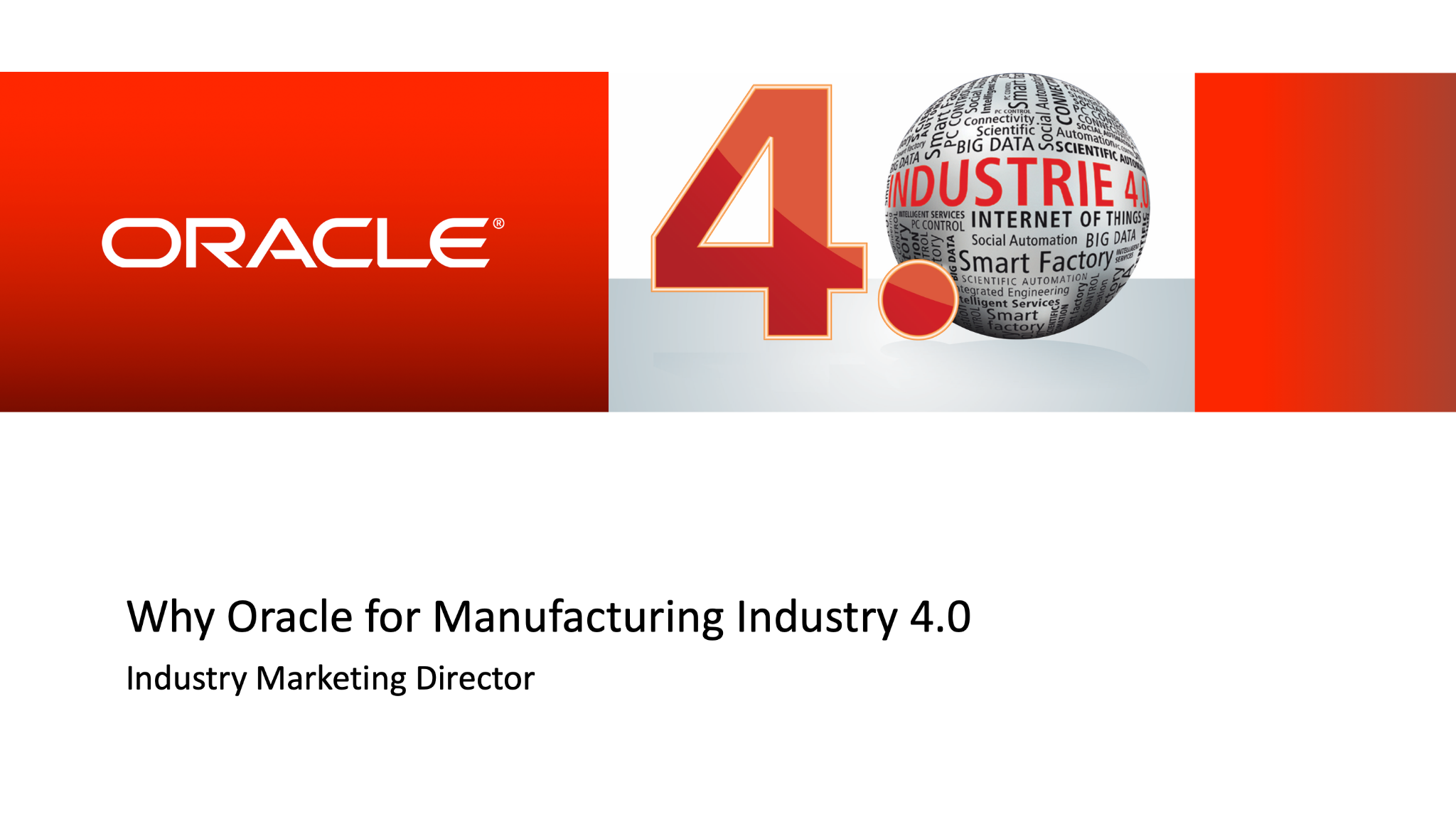 The first industrial revolution—the one that spawned the term—saw the advent of machines capable of carrying out repeatable tasks on a large scale. It enabled mass production and greatly enhanced quality control.
The introduction of the assembly line brought process-based efficiency to manufacturing, maximizing cost effectiveness and allowing human workers to specialize in specific tasks.
Computerization revolutionized design, allowing for far greater accuracy—helping reduce tolerances and push the capabilities of both humans and machines.
Industry 4.0 takes a profound step forward. The cyber-physical 'smart factory' monitors manufacturing processes and makes decisions on its own, intervening to prevent production errors, optimize the supply chain, and enhance quality control. Connected through the internet of things, physical systems use a wealth of real-time data to support human decision-making and even make their own decisions—solving difficult problems and carrying out tasks that are too dangerous or difficult for humans to complete.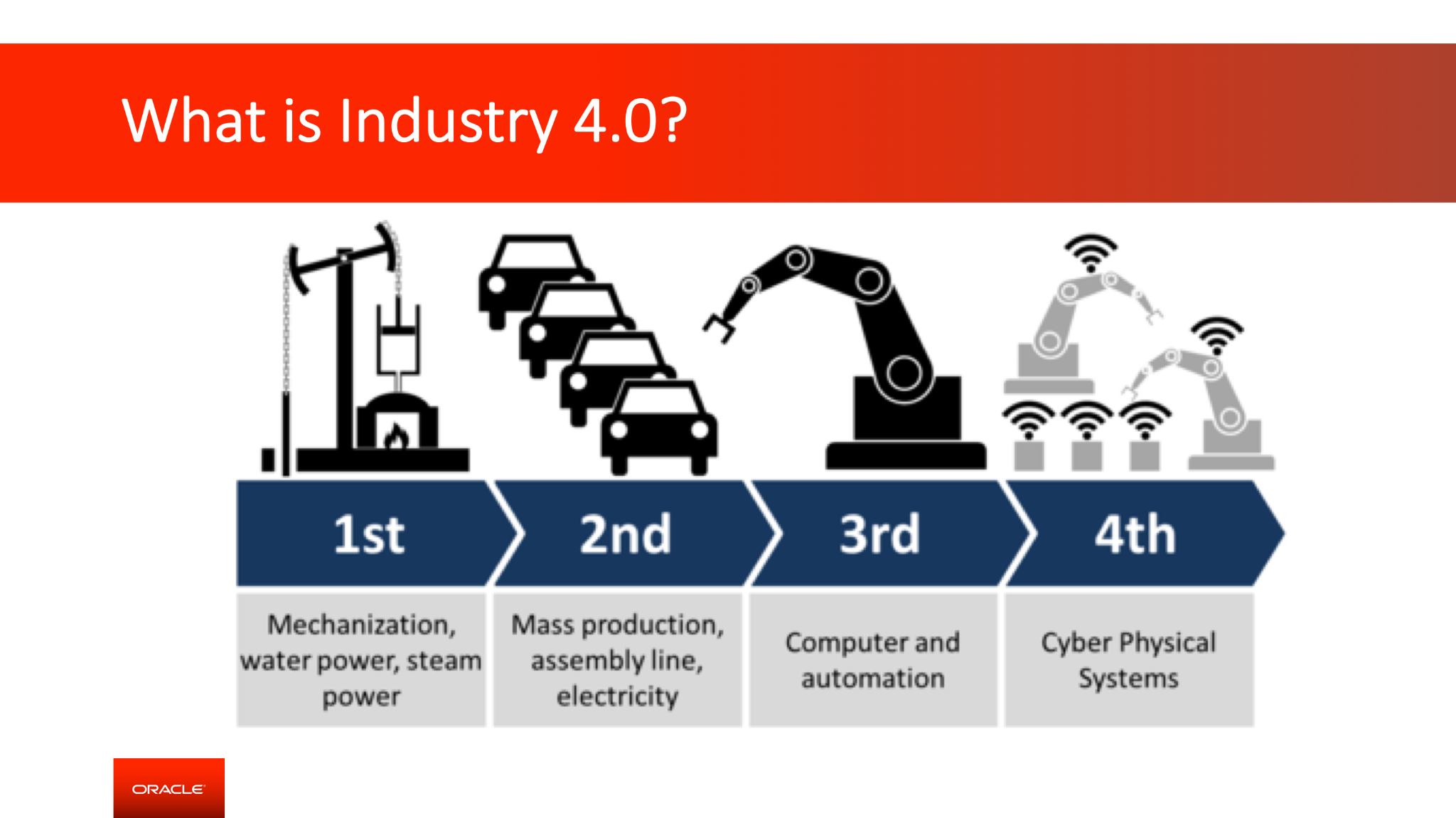 With 75.44 billion connected devices due online by 2025, how will you harness and capitalize upon that data? Manufacturing devices, sensors, machines, protocols, PLCs, SCADAs, CCTV, access control systems for all the elements, including: hydration, temperature, power …become living, breathing systems. These systems provide insights into the health of the manufacturing biosphere.
Autonomously resolving issues at the edge, long before reporting to the cloud, machine learning leads the way to operational excellence. Quality and quantity manufacturing processes can be optimized for just-in-time delivery and up to the minute supply levels. How much will you produce? What is your current inventory? Is the product within the quality parameters?
Ubiquitously provided through the cloud, is scores of data readied for all LOB decision makers. Manufacturing, Operations, Sales, Marketing or Finance will be in tune with the heartbeat of the company conducted on a single system nourished by a constant arterial flow of information.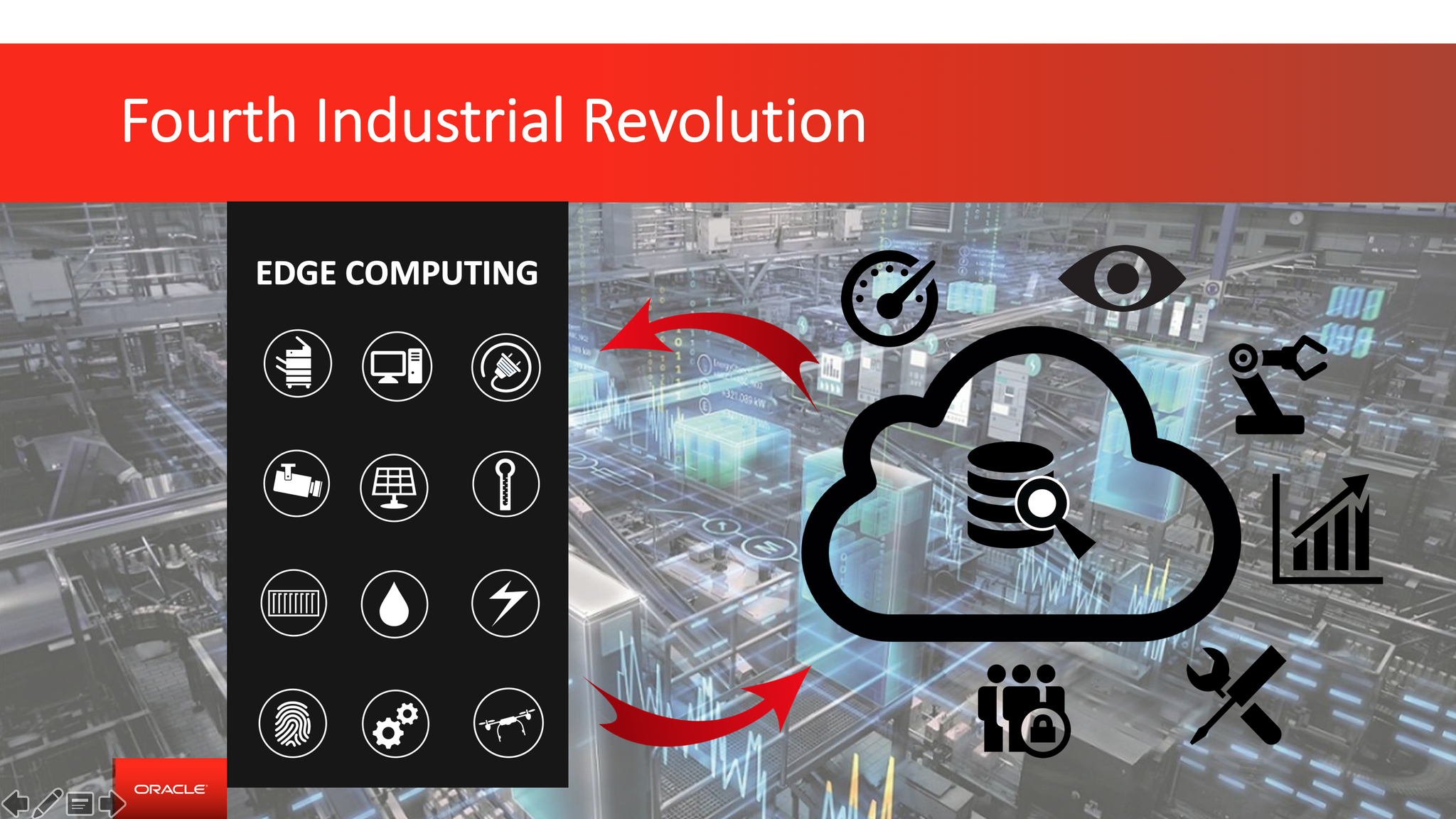 With the consumer at the center of all activities, the pulse within each of the areas of the ecosystem can now be responsive and reactive. Easing challenges in a competitive marketplace that demands just-in-time delivery against the pressures of running lean.

Collect real-time information to increase real-time supply chain visibility with Internet of Things (IoT).
Leverage predictive analytics, including machine learning and artificial intelligence, to provide actionable insights that increase supply chain efficiency.
Better understand market requirements and increase prototyping with connected customer insights and Industry 4.0 technologies such as digital twins.
Increase factory automation using sensor data and predictive analytics to the point where manufacturers can run "lights-out," saving costs.
Open new revenue streams with the hyper-connectivity of Industry 4.0, enabling new "product as a service" business models.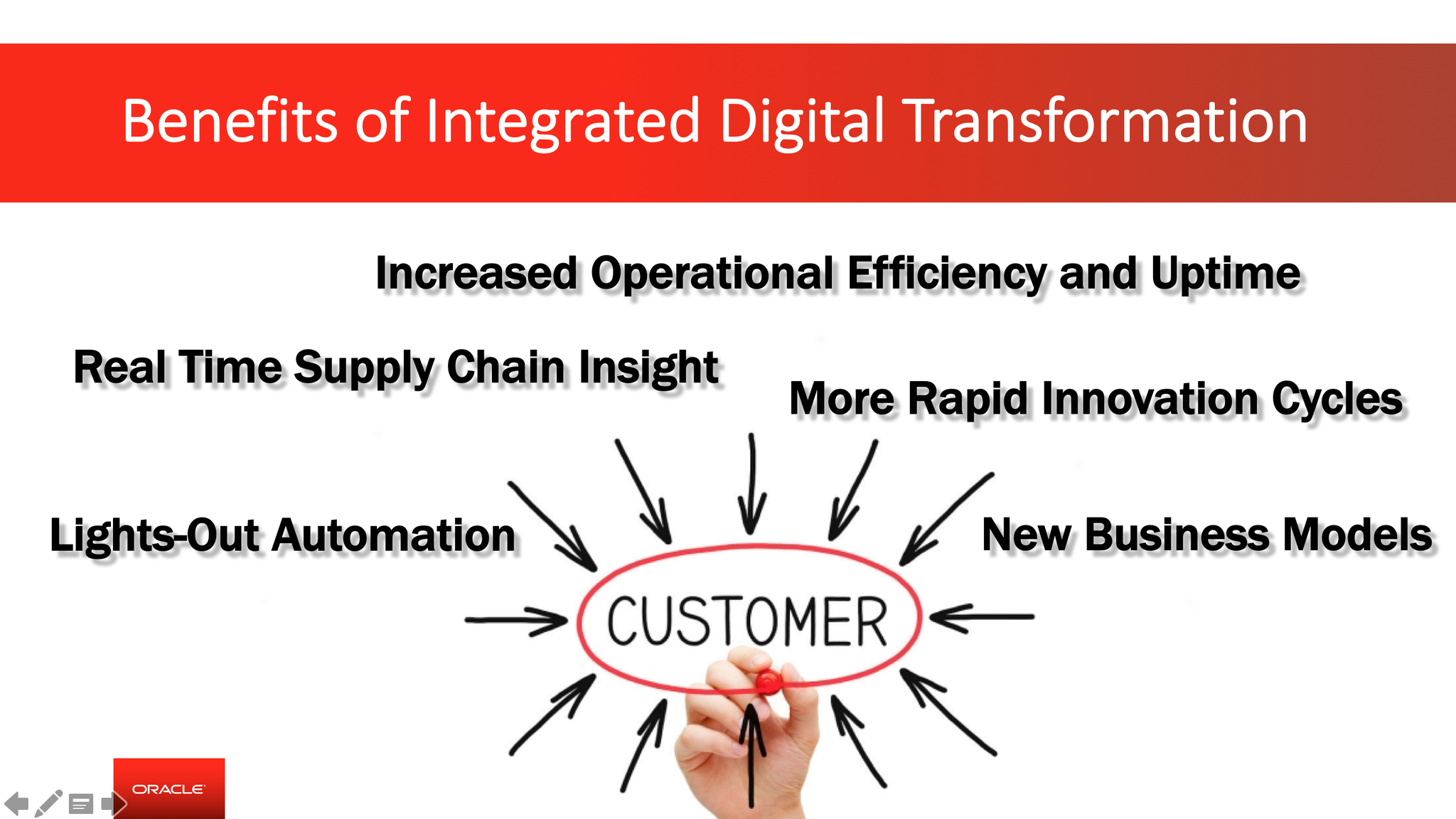 To stay relevant, industrial manufacturing companies must embrace the cloud—enabling real-time visibility and enhancing external and internal collaboration. Whether a first-to-market pioneer or a fast follower, success depends on timing market entry right.
74% of Business Leaders agree that fully embracing digital transformation including advanced analytics and automation is the most expeditious route to becoming an industry disruptor.
72% expect their digital conversion to be complete within five years.
$3.3 billion was invested in breakthrough digital logistics technologies between 2012 and 2017.
Those who don't embrace the technology will be left behind.
Those who have already crossed the chasm are also benefitting from the "data lakes" they are are amassing. The deeper the data, the more precise the predictions. "Does anyone know how often you change the light bulb in your guest room? If you had been collecting IoT data through that particular lamp, the system could predict when it needs replacing so that Amazon could deliver it ON DEMAND the day before it fails."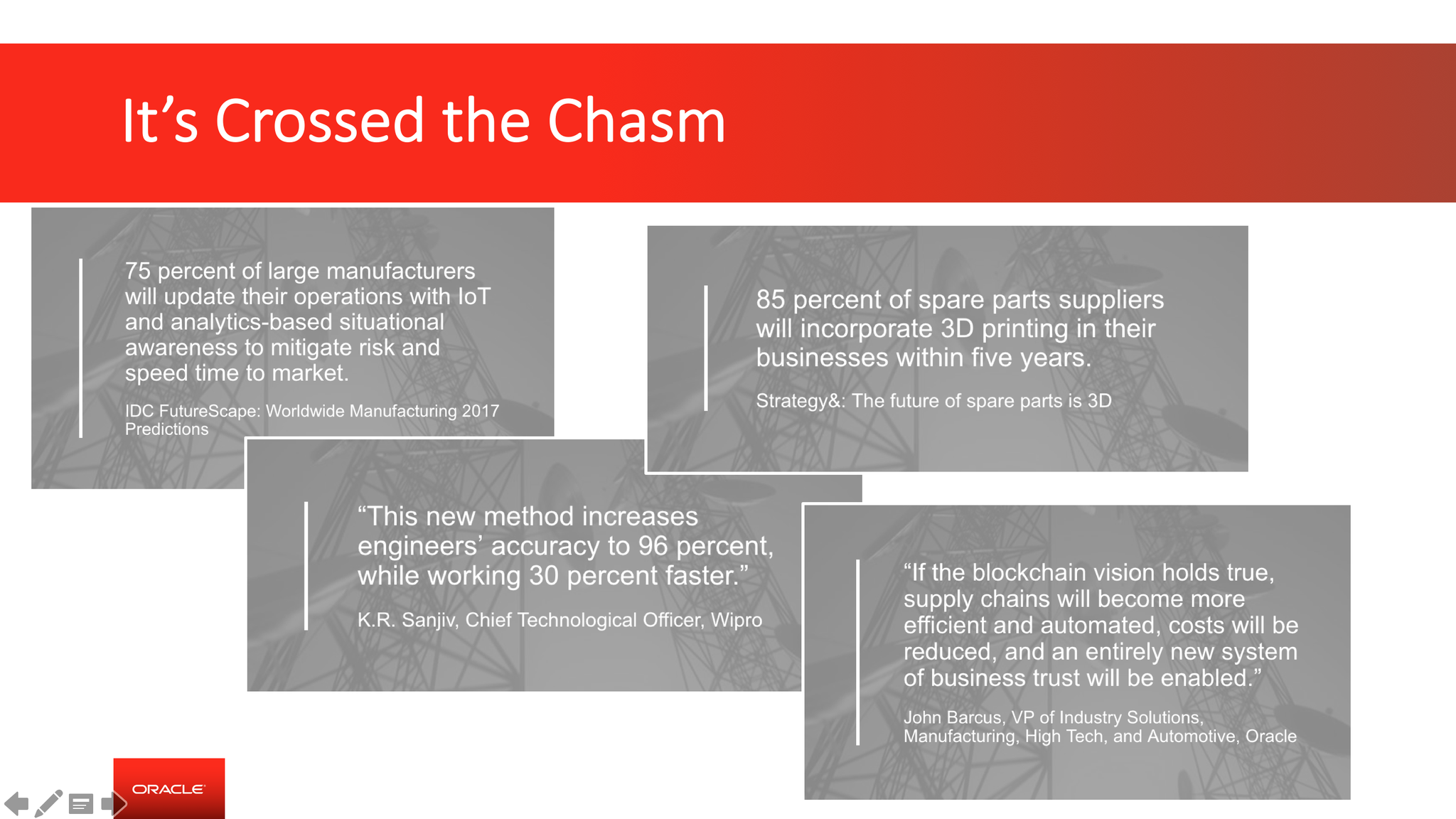 Built upon a legacy of Oracle infrastructure, Oracle provides a comprehensive range of industry solutions to support industrial manufacturing in the digital age. Utilizing a modern cloud platform that combines SaaS applications with IoT, social collaboration, analytics, and mobile cloud services to enable accelerated innovation, and streamlined operations. Fully compatible with on premise solutions, a phased migration to the cloud is already part of the plan.
Reduce maintenance downtime and associated costs
Improve quality by proactively understanding of root issues and quality problems
Improve efficiencies and resolve issues sooner through predictive insight
Improve performance through improved visibility of KPI's and comparative benchmarks
Become more competitive through improved yield, quality, flexibility, and efficiencies
Reduce user training requirements with an intuitive modern manufacturing platform
Direct feedback loop to quality and engineering to reduce time to resolution and cost of quality
Open platform to share your data to innovate with partners